Speech Therapy
Our Speech Therapists can provide you or your loved one with a wide range of evaluation and treatment for the following:

Speech and language disorders
Swallowing problems
Voice disorders
Augmentative communication needs and devices
Why consult a speech therapist?
By the virtue of their education, professional certification, and licensure, speech therapists are the most qualified professionals to assess and treat speech, language and swallowing disorders.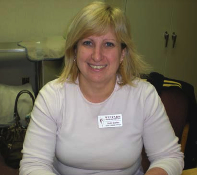 Linda Gartley, SLP

Qualified speech therapists:
Hold a Master's degree from an accredited university.
Have special training in identification, assessment, and treatment of speech, language, and swallowing disorders.
Have completed a full-time internship.
Have passed a demanding national competency examination.
Have a state licensure in Pennsylvania.
Contact Us
To learn more, call us at (724) 335-5526 or (800) 291-5060,
or e-mail us at lowerburrell@westarmtherapy.com.
[Go Back]
Locations
Butler
(724) 287-4111
Homecare
(724) 337-0420
Kittanning
(724) 543-1627
Leechburg/Allengheny Twp
(724) 845-2048
Lower Burrell
(724) 335-5526
New Brighton
(724) 847-1200
New Kensington/Arnold
(724) 339-7725
Pittsburgh Mills
(724) 274-4333
Sarver
(724) 353-0005
---
Corporate Office
(724) 337-6522
(800) 291-5060 - Toll-Free